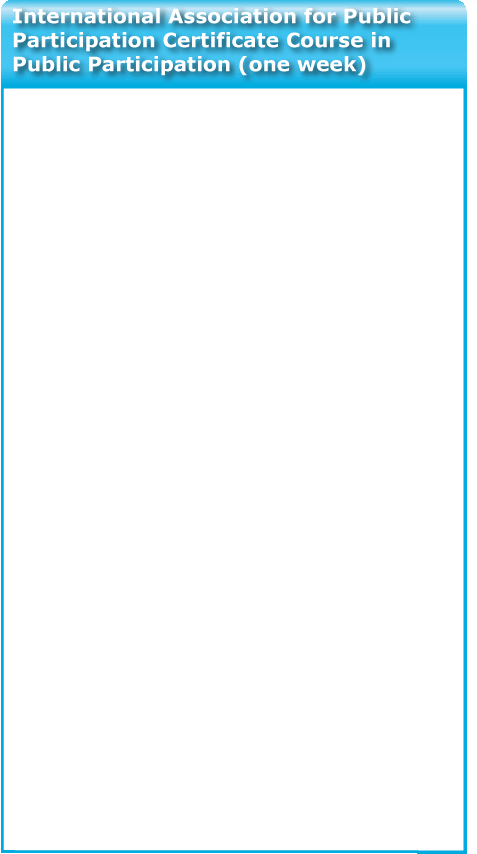 Doug Sarno of The Perspectives Group was an original designer and is a Master Trainer for this internationally renowned course. It presents a model for how to conduct effective public participation through three modules: Planning, Communications, and Techniques. Over five days it covers all aspects of public participation through a highly interactive program.
Topics include:
The full scope of planning needed for effective participation, including information, timing, resources, techniques, and roles and responsibilities
A variety of ways to identify the public and understand potential impacts of actions
How to select the appropriate level of public participation
How to set clear, shared objectives for effective participation
How to develop a public participation plan
How to identify appropriate evaluation tools to measure the effectiveness of public participation programs
An understanding of the communication skills needed to support effective public participation
How to use appropriate communication skills, behaviors and tools to support effective public participation
How to create effective forums for dialogue and how to avoid the many problems encountered in traditional public meetings
How to use various techniques to:

Promote awareness by sharing information
Gather broad-based feedback
Foster meaningful discussion
Facilitate agreement
Provide effective forums for public discussion.
The Perspectives Group is currently offering the IAP2 Certificate Course in Public Participation on the following dates:
Douglas J. Sarno, trainer

August 10-14, 2009
Location:
Albany, NY


October 19-23, 2009
Location:
Orlando, FL